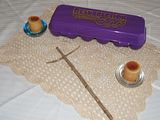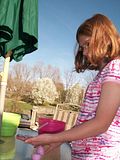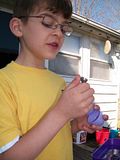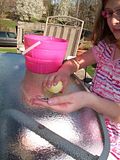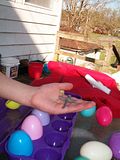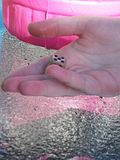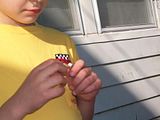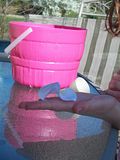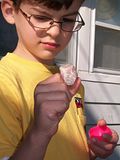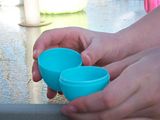 Each year we have an Easter egg hunt in which we hide along with regular plastic eggs, our set of Resurrection Eggs. Resurrection Eggs tell the basic Easter story.
Starting with the donkey, as a symbol of the Triumphal Entry- Jesus' arrival into Jerusalem. (Mark 11: 1-10)
The next symbol are 3 coins, symbolizing Judas' betrayal of Jesus for 30 pieces of silver. (Mark 14:10,11; Luke 22:3-6)
Then the cup, which represents the Passover meal or the Last Supper in which Jesus broke the bread and passed the cup. (Mark 14:22-26; Luke 22:14-23)
Next, the praying hands for the prayer in the Garden (Mark 14:32-42; Luke 22:39-46)
Then, a strip of leather which symbolizes the beatings Jesus received at the hands of the Roman soldiers. (John 19:1-3)
A crown of thorns for the one placed upon Jesus' head (Matthew 27:29)
Then 3 nails welded together to represent the three nails that pierced his hands and feet. (Matthew 27:32-56; Mark 15:21-41; Luke 23:26-49)
A die for the soldiers casting lots for Jesus' clothes (John 19:23-24)
Then the spear that they pierced Jesus' side. (John 19:31-37)
A linen piece of cloth to symbolize Jesus being wrapped in cloth for burial (Matthew 27:57-61)
A stone for the one rolled in front of the tomb. (Matthew 27:57-61)
Finally an empty egg- to symbolize the empty tomb and why we celebrate today and everyday. (Matthew 28:1-10)

We have our children open the eggs and tell us what each symbol stands for as we fill in the gaps of the story. This Easter we watched The Story of Jesus for Children, a great passion story for children that has a wonderful gospel presentation at the end. After lunch, we had a time of worship together. Our prayer is that next Easter will be shared with others who will be a part of our house church.
But for now we are being reminded that we must :
"Rejoice always, pray without ceasing, in everything give thanks; for this is the will of God in Christ Jesus for you."
1 Thessalonians 5: 17
These times alone are important for us to rejoice, give thanks and most of all to pray without ceasing.